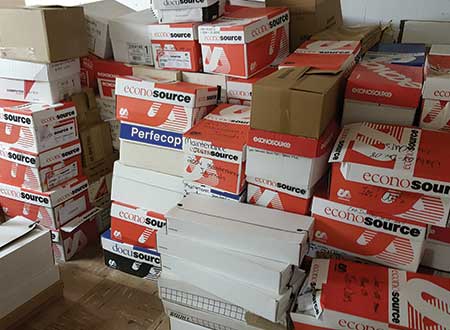 DOCUMENT
STORAGE
Need to free up valuable space within your building, or do you need someplace secure to store records or items you need to retain? IROW has a secure facility to meet your needs.
Your records can be safely stored in our heated, fully sprinkled, access controlled, alarm monitored and video monitored building. Far better for your documents than storing them in a "self-storage" locker, and much easier to access.
Economic Impact
IROW understands waste streams and can help you identify both the economic opportunities and the economic disadvantages of commercial and business recycling. We have empowered our customers to save thousands of dollars by implementing our recommended recycling programs.
Recyclable materials include, but are not limited to:
Office Waste Paper
Glass
Magazines
Plastic Bottles & Containers
Newspapers
Aluminum
Corrugated Cardboard
Tin
Chipboard
Plastic Pails
Analysis
By conducting a thorough analysis of the waste stream, from an economic vantage point, IROW provides a view point found nowhere else in the industry. Our commercial and business recycling services can be custom fit to meet your needs. Contact IROW today to learn more about our commercial and business recycling.
"IROW has been our company-wide recycler since 1996, and exceeds in two ways: first, they provide "on request" waste audits of materials going to landfill, and second, they provide a monthly report with detailed accounting of all recyclables received from our operations. Most importantly, IROW has saved us money and that money goes directly to the bottom line." Richard Harding, Corporate Environmental Manager, Weather Shield & the Peachtree Companies.
ORDER SERVICES
ONLINE
Did you know you can order our services for your home or work site from our web site? Tell us what size you need, location, pay and we'll arrange the rest.
Order Online